Tricounty Rural Electric Cooperative's 85th Annual Meeting was held virtually on Wednesday, Sept. 21. Board election results were announced, with one board member being re-elected and a new one joining.
Election results:
District 2 trustee winner: David Clapp (representing Washington and Liberty townships in Henry County) - incumbent, re-elected
District 3 trustee winner: Len Meyer (representing Putnam County with the townships of Liberty and Van Buren and the townships of Pleasant, Napoleon, Flatrock, and Marion townships in Henry County.) Meyer replaced Johney Ritz on the board.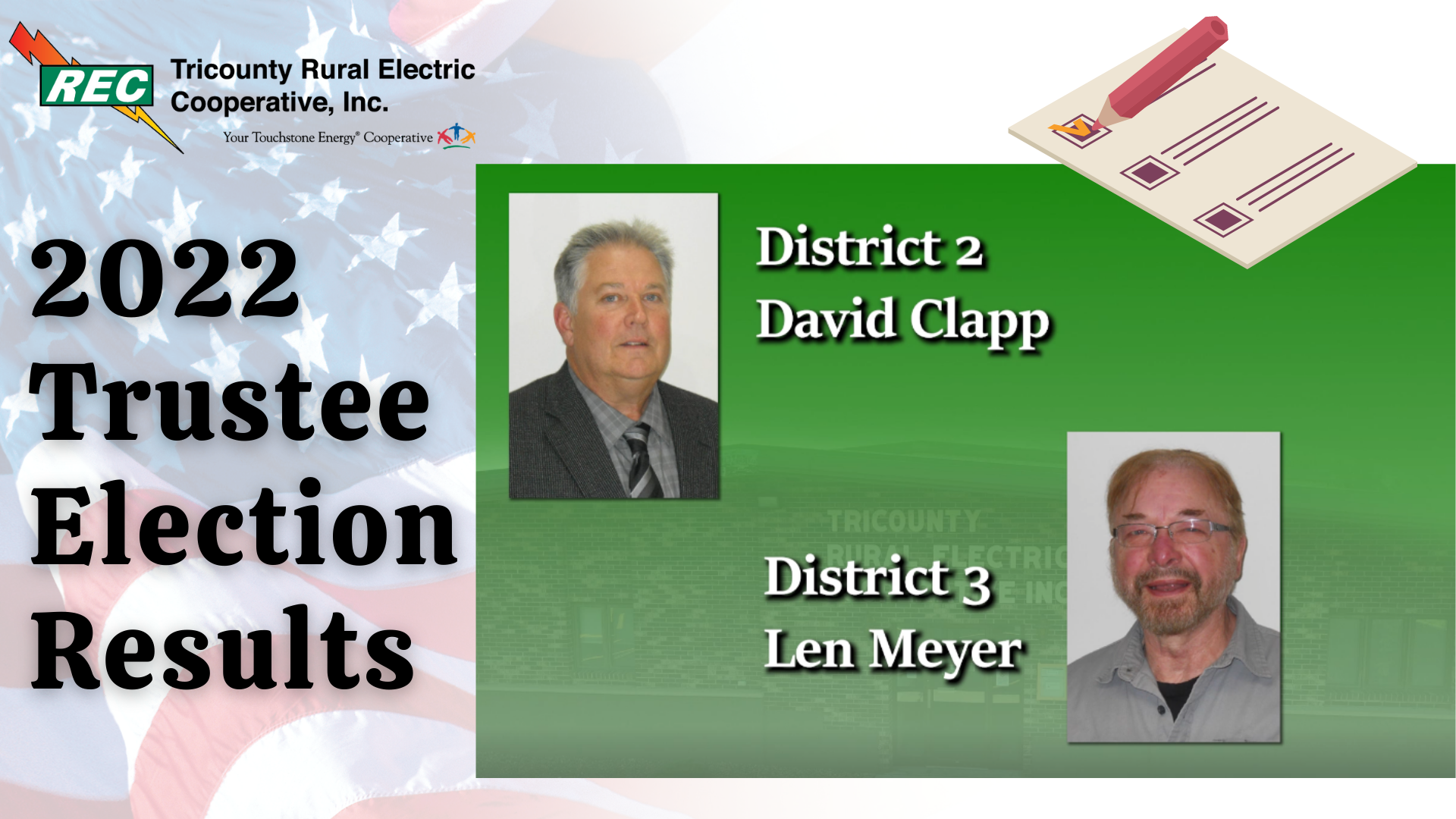 This year's trustee elections were conducted by mail and allowed for electronic voting through Tricounty's website. Voting ran Aug. 1 through Aug. 31 and was conducted by a third-party company called Survey and Ballot Systems. Tricounty REC thanks former District 3 Trustee Johney Ritz for his service to the co-op.
Members who watched the meeting heard about the co-op's financial standing, as well as reports from co-op management recapping the cooperative's activities this past year. Board President Johney Ritz detailed the $3.2 million spent in distribution line maintenance, and substation upgrades to keep the co-op's system running smoothly and "to provide members with reliable electric service."
The board also announced a $639,809 capital credits retirement to current and former members this December 2022. As a not-for-profit utility, the co-op operates at cost and returns any profit (or margin) after expenses are paid back to the member-owners based on their electric use for the year.
Since 1950, Tricounty REC has returned over $20 million to its member-owners via capital credits.
More information, including financials, is available below. Please give our office a call with any questions. Thanks for being a member of your community cooperative!
For several reasons outlined in previous months, the decision was made to hold our 85th annual meeting of members virtually. Members can watch the meeting above and listen to the management reports at their convenience. We felt it was important for the board to be available to the members, as they traditionally were at the in-person annual meetings. On July 23, Tricounty held its first Member Appreciation Day at Sauder Village, near Archbold, Ohio. We hosted over 425 members and guests to enjoy a day of activities and connecting with our community. Thank you to those who attended and made our day so successful.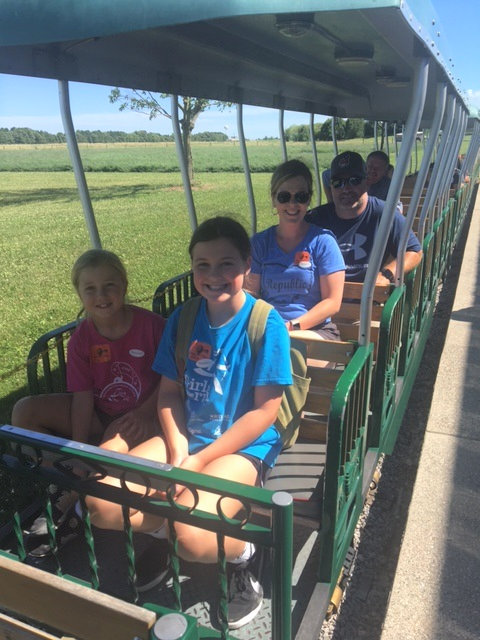 Financial  
We are pleased to present you with another positive report on the financial condition and operation of your cooperative this past year. Part of the margin generated by your cooperative was used to make a capital credits retirement again this year. Your capital credits account is a benefit that is exclusive to electric cooperative members-owners. The board approved retirement of $639,809 in patronage capital last December. This retirement was allocations for the remainder of the year 2003 and 10% of the year 2020. It was made to current and former members and was the 44th consecutive general retirement of capital credits made by Tricounty. In addition, $251,837 was paid to deceased member estates during the year. Including this $891,646 from the past year, Tricounty has returned over $20 million in capital credits to our member-owners. The total assets of your cooperative now exceed $22.4 million.
 
Reliability 
Tricounty strives to provide its members with the reliability of electric power they expect and deserve. We continue to build new line extensions, install new services, and rebuild older lines. Our right-of-way (tree trimming) maintenance program helps prevent power outages and reduces storm damage to our overhead lines. After much planning, study, permits, and approvals, we are nearing completion of the $3.2 million, 138-KV substation near the Ohio Turnpike, north of Delta. We are confident this new substation will not only increase reliability of service, but attract economic growth to the area.
Rates
The most difficult responsibility of your cooperative trustees and management is determination of the rates we charge our members. One of our operating principles is to provide reliable electric service at affordable rates, while maintaining the cooperative as a financially secure business, now and into the future. The wholesale power cost is our single largest expense and accounts for over 62% of our total expenses. Transmission costs have risen by 50% over the last three years, and we expect this trend to continue. Material costs (poles, wire, transformers) have risen by 30 to 50% the past year. These expenses, all beyond our control, left us no choice but to increase the rates we charge our members. Effective Aug. 1, a power cost adjustment (PCA) was implemented, to be shown as a separate line item on your billing statement. Any month our wholesale power bill is above or below $.0801 per kWh, a charge or credit will appear on your bill as a PCA adjustment. Also increased was the monthly facility charge for the residential and general service rate classes. This will allow us to remain financially stable, operate with the same level of service, maintain our distribution system, and refund capital credits.

Safety 
The safety of our members, employees, and community is a high priority for your cooperative. We have monthly safety meetings for employees, have performed high-voltage safety training for our local fire departments, and publish safety tips in Ohio Cooperative Living magazine. Our goal is to keep all our members and communities aware of the dangers involved in dealing with electricity.

Community
One of the seven cooperative principles is Concern for Community. We were pleased to send two delegates to the 2022 Youth Tour, a weeklong trip to our nation's capital and participation in a life-changing leadership experience. This past May, six high school seniors received scholarship awards to help further their education.

There have been many changes over the past few years. But your cooperative is committed to providing you with safe, reliable, and affordable electric service. We look forward to upcoming projects, programs, and services designed to enhance your quality of life by providing excellent service to our members. Your board of trustees and employees appreciate and thank you for your cooperation and support throughout the past year.